William J. Bell Biography Now Available In Paperback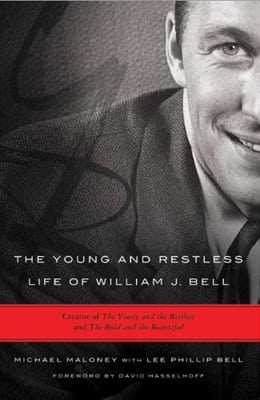 You've no doubt devoured the hard cover version of The Young and Restless Life of William J. Bell, the biography detailing the late daytime legend, former talk show host and "The Young and the Restless" and "The Bold and the Beautiful" creator, and now there's a lighter version you can easily carry to the beach this summer!
The book, originally released in hard cover form last June and now available in paperback form in bookstores nationwide, gives a detailed, behind-the-scenes look into Bell's life, including memories pertaining to the birth and creation of two of daytime's most popular shows. Bell's wife, Lee Phillip Bell, co-wrote the biography, along with television reporter Michael Maloney. David Hasselhoff (ex-William Foster, 'Y&R') wrote the foreword.
"I hope soap fans enjoy the The Young and Restless Life of William J. Bell," Maloney says. "It's a chronicle of Bill and Lee's inspiring life together — how they met, fell in love, followed their dreams, and built a soap opera empire along the way. There's much of Bill's philosophies on serialized storytelling in the book and untold anecdotes from the golden age of soap operas."