Monthly Archives: April 2013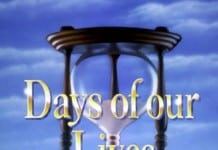 On Tuesday, April 9, NBC premieres the new supersized "Bachelor"-esque reality series "Ready for Love," and NBC's daytime superstars Alison Sweeney (Sami Brady) and James Scott (EJ DiMera) from "Days of our Lives" are giving you a sneak peek of what NBC hopes to be it's next reality hit, but first...it's time for "The Tonight Show."
On Thursday, March 28, when news first broke on the hiring of Jenni 'JWOWW' Farley ("Jersey Shore" and "Snooki & JWOWW") on "One Life to Live" in the recurring role of Nikki, Prospect Park's The OnLine Network noted, "JWOWW got some acting tips from Josh Kelly, who plays con man Cutter Wentworth. Things got out of control after Kelly showed JWOWW how to do a 'pretend' slap. After a brief demonstration, Kelly asked JWOWW to slap, and she really did!" That slap is now available for viewing as MTV takes you being the scenes of JWOWW's first day on the set of the iconic soap.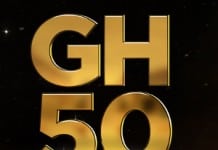 In a report by Variety, Michael Maloney talks with "General Hospital's" leading man, Anthony Geary (Luke Spencer), who explains that the renewed success of the soap can be directly credited to its head writer and executive producer.
Since it was first announced that Prospect Park's The OnLine Network was looking to once again revive "All My Children" and "One Life to Live," after they were canceled by ABC in 2011, it has been said that the company planned to take the shows into a sexier and edgier environment. In a recent teaser released by iTunes for its launch of the two soaps, Erika Slezak (Victoria Lord, "OLTL") is heard saying, "My agent said, 'What do you want in this contract?' I said, 'No nudity!" Fans shouldn't expect anything too racy on either show as Prospect Park co-founder Rich Frank admitted to Michael Maloney, Contributing Editor at Bauer Publishing for Soaps In Depth, in an interview with Variety. "We are going to be a little hotter and sexier," said Frank. He added, "That doesn't mean we'll be doing anything that's offensive. We're trying to be contemporary and have storylines that are relevant to people's lives."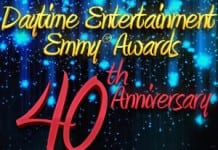 As the popularity of soap operas fell in recent years (shown by decreased ratings and the cancelation of several sudsers, leaving only "The Young and the Restless," "The Bold and the Beautiful," "Days of our Lives," and "General Hospital" on the air), the Daytime Emmy Awards shifted to keep up: Gone were the beloved clips showcasing the nominated actors' work and the majority of the show celebrating daytime dramas, in were more moments involving morning, talk, game and cooking shows. And rumor had it that the Emmys would become even less soap-centric as the years went on. But according to the Daytime Emmys' senior executive director, David Michaels, though this year's program has not yet been set, he's sure the ceremony will keep soaps front and center, right where they belong! "The daytime fan base comes from all genres," he tells Variety. "We have a Facebook page, and it's not just the soap fans. The games and the talk shows have some pretty rabid fans, too. But there's no fans like soap fans."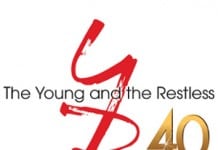 With almost 30 years of memories to pull from, "The Young and Restless'" Tracey E. Bregman (Lauren Fenmore) can't be forced to name her favorite "Y&R" moment. Because, as she so aptly puts it, "There have been so many!" But as she celebrates being back on contract with the show (something she's been on again/off again since she started back in 1983), she's thrilled to be playing out what she thinks is one of Lauren's greatest story arcs yet.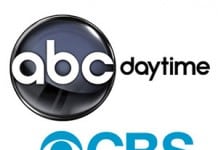 Looking at how daytime television has become the pre-primtime of the entertainment landscape in more ways than one, Variety.com, now part of Penske Business Media, LLC (owners of Deadline.com and TVLine.com), has highlighted several of daytime's biggest stars in front of and behind the scenes who help make the daily drama, the fun & games and the topics of discussion millions of viewers tune into each and every weekday. Those featured in the article include Angelica McDaniel (Senior Vice President, CBS Daytime), Frank Valentini (Executive Producer, "General Hospital") Kelly Ripa (Tak Show Host, "Live with Kelly and Michael"; ex-Hayley Vaughan Santos, "All My Children"), Heather Tom (Katie Spencer, "The Bold and the Beautiful"), Katie Couric (Talk Show Host, "Katie"), Judge Judy Sheindlin (Judge, "Judge Judy"), Carla Hall and Clinton Kelly (Co-Hosts, "The Chew") and many more.
CBS has announced that Michelle Stafford (Phyllis Newman, "The Young and the Restless") and a number of your favorite daytime stars will be taking part, for the first time, in #CBSTweetWeek, where fans will have direct access to top talent from their favorite CBS programming (primetime, daytime, sports or otherwise).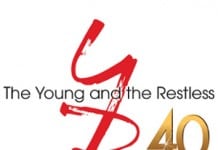 As previously reported, cast members from CBS' "The Young and the Restless" appeared on yesterday's edition of "Marie." In honor of the soaps 40th anniversary, the Marie Osmond hosted talker paid tribute to the memory of "Y&R" co-creator and head writer, William J. Bell, and highlighted the longest-running feud in daytime soap history - Katherine Chancellor (Jeanne Cooper) and Jill Foster Abbott (Jess Walton).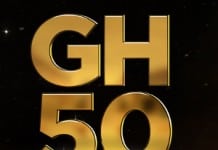 As "General Hospital's" 50th anniversary celebration kicks into high gear this week with a very special episode airing Tuesday, April 2 (episode was originally scheduled to air on Monday, April 1 as the 50th anniversary celebratory episode), fans will have no chance of avoiding the cast of the series as they grace your TV screens in more ways than one. In addition to the upcoming Special Edition of "20/20" with Katie Couric," wherein ABC News will feature "General Hospital" in a "Real Soap Dish" episode airing Saturday, April 6 from 9:00 – 10:00 PM ET on ABC, the daytime talk show newbie will host the series in a special edition of "Katie" airing on Thursday, April 4. Stars scheduled to appear in the episode include Anthony Geary (Luke Spencer), Genie Francis (Laura Spencer), Kin Shriner (Scott Baldwin), Finola Hughes (Anna Devanne), and Kelly Monaco, with a special performance by Rick Springfield (Noah Drake).