Prospect Park executives Jeff Kwatinetz and Rich Frank have confirmed to Soap Opera Network that the production company has signed "One Life to Live" cast members Tuc Watkins (David), Josh Kelly (Cutter), Florencia Lozano (Tea), and Shenell Edmonds (Destiny) for the online version of the ABC soap pending final Guild agreements.
In a statement, the company said "After the ABC television network finale airs in January, 'One Life to Live's' David, Cutter, Tea and Destiny will be reunited with previously announced characters including Erika Slezak's Victoria and Kassie DePaiva's Blair Cramer."
With the signing of Watkins, Kelly, Lozano and Edmonds, Prospect Park has now signed a total of 13 current "One Life to Live" cast members including the aforementioned Slezak and DePaiva. On Friday, September 30, Prospect Park announced deals with Melissa Archer (Natalie Buchanan Banks), Kelley Missal (Danielle Rayburn), Sean Ringgold (Shaun Evans), Andrew Trischitta (Jack Manning) and Jerry VerDorn (Clint Buchanan). The company previously announced the signings of Ted King (Thomas Delgado), Michael Easton (John McBain) on Tuesday, September 6.
(SoapOperaNetwork.com) — "General Hospital" Episode Recap – Thursday, November 3, 2011.
IT HAPPENED TODAY…
Back in Port Charles, Carly runs into Luke's at Kelly's, and it's not a pretty showdown. Carly reaches out to Shawn when he is off-duty – and is not pleased to find him with another woman at Jake's.
Dante and Michael are at odds over warehouse details. Later, Kate interrupts dinner, and Dante gets a warehouse clue. Lulu questions Olivia. Sonny and Kristina have a heart-to-heart.
Patrick and Robin create a heart-warming birthday present for Emma.
On the Next General Hospital…
Anthony reminds Johnny about Claudia.
Sonny witnesses Carly's blowup.
Jason awakes to a surprise.
(SoapOperaNetwork.com) — Ratings Report for the Week of October 24-28, 2011
NOTE: Please do not copy and paste the entire ratings.  Thank you.
Numbers are based on Live+Same Day ratings
(Compared to Last Week/Compared to Last Year)
Total Viewers
1. Y&R 4,467,000 (-12,000/-411,000)
2. B&B 3,180,000 (+113,000/+72,000)
3. OLTL 2,562,000 (-31,000/+217,0000)
4. GH 2,373,000 (+56,000/+91,000)
5. DAYS 2,351,000 (-42,000/-73,000)
Households
1. Y&R 3.4/11 (+.1/same)
2. B&B 2.4/8 (+.1/+.2)
3. OLTL 1.9/6 (same/+.1)
4. GH 1.8/5 (same/+.1)
5. DAYS 1.7/6 (-.1/-.1)
Women 18-49 Viewers
1. Y&R 943,000 (+37,000/-93,000)
2. OLTL 684,000 (+76,000/+55,000)
3. GH 679,000 (+82,000/-8,000)
4. B&B 636,000 (+53,000/-14,000)
5. DAYS 611,000 (+31,000/-59,000)
Women 18-49 Rating
1. Y&R 1.5/9 (+.1/-.1)
2. OLTL 1.1/7 (+.2/+.1)
2. GH 1.1/6 (+.2/+.1)
4. DAYS 1.0/6 (+.1/same)
4. B&B 1.0/6 (+.1/same)
Girls 12-17 Viewers
1. OLTL 58,000 (+17,000/+30,000)
2. Y&R 43,000 (same/-2,000)
3. B&B 35,000 (+7,000/+3,000)
4. GH 33,000 (+21,000/-1,000)
5. DAYS 18,000 (-7,000/-5,000)
Women 18-34 Rating
1. Y&R 0.7/4 (same/-.1)
1. OLTL 0.7/4 (+.1/+.1)
3. DAYS 0.6/4 (+.1/-.1)
4. GH 0.5/3 (+.1/-.1)
5. B&B 0.4/3 (-.1/-.1)
Men 18+ Viewers
1. Y&R 1,009,000 (-36,000/-225,000)
2. B&B 665,000 (-14,000/-25,000)
3. DAYS 533,000 (+16,000/-14,000)
4. OLTL 468,000 (-62,000/+62,000)
5. GH 402,000 (-38,000/-6,000)
————————————-
Day-To-Day Ratings – HH/Total Viewers
B&B
Monday: 2.6/3,442,000
Tuesday: 2.4/2,991,000
Wednesday: 2.5/3,157,000
Thursday: 2.3/3,226,000
Friday: 2.2/3,084,000
DAYS
Monday: 1.8/2,544,000
Tuesday: 1.7/2,200,000
Wednesday: 1.7/2,404,000
Thursday: 1.7/2,383,000
Friday: 1.6/2,224,000
GH
Monday: 1.7/2,296,000
Tuesday: 1.7/2,246,000
Wednesday: 1.8/2,323,000
Thursday: 1.8/2,398,000
Friday: 1.9/2,600,000
OLTL
Monday: 1.9/2,516,000
Tuesday: 1.8/2,348,000
Wednesday: 1.9/2,647,000
Thursday: 1.9/2,544,000
Friday: 2.0/2,754,000
Y&R
Monday: 3.5/4,595,000
Tuesday: 3.3/4,199,000
Wednesday: 3.4/4,527,000
Thursday: 3.4/4,598,000
Friday: 3.2/4,414,000
————————
For the SEASON September 19, 2011 through October 30, 2011
Households
1. Y&R 3.4
2. B&B 2.3
3. OLTL 2.0
4. GH 1.9
4. DAYS 1.9
Women 18-49 Rating
1. Y&R 1.5
2. DAYS 1.1
2. GH 1.1
2. OLTL 1.1
5. B&B 1.0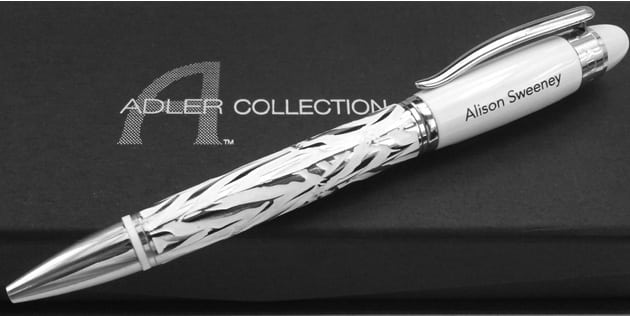 On Saturday, November 5, 2011, the cast of NBC's "Days of our Lives" will be celebrating the the 4th Annual "Days of Days" fan event at CityWalk at Universal Studios Hollywood. While signing autographs, the stars will be signing with their very own personalized Adler Collection pens (see photos for samples). Soap Opera Network has partnered with the pen maker in giving away a free personalized pen to three lucky winners along with a personalized video congratulations from a "Days of our Lives" cast member.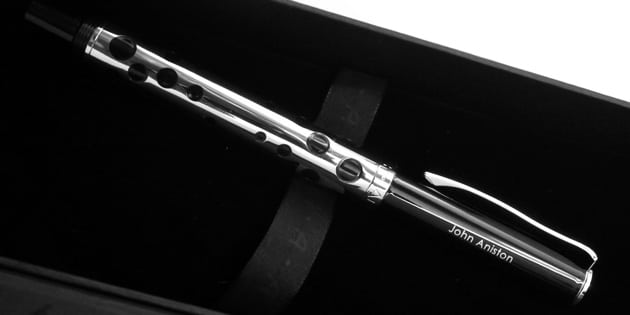 The giveaway will run from 6:00 PM ET on Thursday, November 3 through 12:00 PM ET on Saturday, November 5, 2011.
To enter, answer the following question correctly and you will automatically be entered in a random drawing that will take place immediately after the close of the giveaway.
Question: What month, day and year did "Days of our Lives" premiere on NBC?
To enter, submit your full name and mailing address to [email protected] with the answer to our question (make sure to include "Days of our Lives" in your subject line).
TERMS & CONDITIONS

NO PURCHASE NECESSARY. Void where prohibited. Open only to legal residents of the U.S. and Canada who are 18 or older. Commencing on Thursday, November  3, 2011 at 6 p.m. Eastern Time ("ET") and continuing through Saturday, November 5, 2011 at 12 p.m. ET, Soap Opera Network will run the "Days of Days Fan Giveaway!" in which three (3) Adler Collection pens  will be given away to three lucky individuals that correctly answer the question, "What month, day and year did 'Days of our Lives' premiere on NBC?" To enter, submit your name, mailing address and the answer to [email protected]. Emails must include "Days of our Lives" in the subject line. There is a one prize limit per winner. A total of three winners will be selected. Winners will be notified by e-mail. Offer valid while supplies last. Names and addresses will not be used for any other purpose by this site or its corporate parent (see privacy policy).
About the Adler Collection
Adler Collection creates, manufactures, personalizes and retails contemporary accessories and executive merchandise. It markets a range of finely crafted items with designer detailing and embellishments appropriate for gift-giving and personal use. Fine writing instruments, luxurious leather portfolios, travel accessories and specialized table-top merchandise are personalized items available through its' catalogs and website theadlercollection.com.
(SoapOperaNetwork.com) — "General Hospital" DVR Alerts for the Week of November 7, 2011.
GENERAL HOSPITAL: DVR ALERTS
Monday: Kate and Carly go for each other's jugular. Jason receives Franco's wedding gift. Lucky visits the church and feels a presence.
Tuesday: Sonny and Kate slow dance. Steven discovers Olivia has bought something important. Dante returns home from the hospital with Lulu.
Wednesday: Johnny helps Kate. Sonny visits Olivia. Robin catches Patrick coming home late from the hospital.
Thursday: Mac makes an important announcement. A new doctor arrives in town. Jason and Sam search for Franco.
Friday: Elizabeth gets an unexpected visitor. Sam's upset. Carly learns more about Shawn.
(SoapOperaNetwork.com) — "One Life to Live" DVR Alerts for the Week of November 7, 2011.
ONE LIFE TO LIVE: DVR ALERTS
Monday: Natalie and Jessica's relationship takes another hit. Tomas questions Todd about his brother's murder. Téa learns the results of her pregnancy test.
Tuesday: Clint is upset he can't walk Natalie down the aisle at her wedding. Téa has some important news for Todd. Clint is moved by Viki's actions.
 Wednesday: An armed Todd spies on Blair and Tomas. A fire breaks out at The Sun. Will Clint and Viki kiss?
Thursday: Rick makes changes to Starr's music video. Todd continues to eavesdrop on Blair and Tomas' romantic evening. Todd has another vision of Irene, who urges him take drastic action.
Friday: Bo and Nora share a dance before Natalie and Brody's wedding. Shaun is surprised by Vivian's marriage views. Viki receives an important letter from Dorian.
(SoapOperaNetwork.com) — As "One Life to Live" winds down production on its television run, the show has landed the mother of all returns — literally. Agnes Nixon, who created "OLTL" and sister soap "All My Children," will make an appearance on the show as, what else, a soap opera scribe.
TVGuide's Michael Logan is reporting that the 83-year-old Nixon will play Agnes Dixon, creator of "One Life's" 1980s fictional soap-within-a-soap, "Fraternity Row."
While the show is keeping mum on the storyline details, Logan writes that Nixon's character will be interviewed by Llanview's feisty television reporter Blanca Morales (Carolina Bermudez), and that the former soap parody will again become an integral part of the show's final weeks on ABC Daytime before airing its final episode on Friday, January 13 and begins online production with Prospect Park.
Nixon will tape her scenes on November 17. They will air the week of January 9.
This marks the second time Nixon has appeared on "OLTL." In 2008, she appeared as "Agnes" when Viki (Erika Slezak) went to heaven as part of the show's 40th anniversary. She also made cameo appearances on "All My Children" in 2005, 2008, and September of this year.
(SoapOperaNetwork.com) — "One Life to Live" Episode Recap – Wednesday, November 2, 2011.
IT HAPPENED TODAY…
Viki, Tina and Todd are summoned to the courtroom. Téa had filed a motion to overturn Victor's will, which left everything to Irene. Todd and Téa are horrified by the outcome.
Meanwhile Cord tells Clint all about his night with Tina and how ultimately he rejected her because he doesn't trust her.
Tomas goes to Blair and tells her he promised to find Victor's real killer. Is it possible it could be Todd? Blair objects strenuously and they spar. Finally Tomas convinces her he isn't accusing Todd but has to start somewhere.
Meanwhile before the hearing, Nora and Téa meet, and Téa tells Nora about Tomas's plans. Nora tells Téa that she's still not convinced it wasn't Todd.
Cord sympathizes with Clint after reading "Kim's" letter but Cord thinks his true feelings are for Viki. Stacy runs into the bathroom and Rex doesn't see her. Rex blasts her without realizing who she is, from the other side of the door, telling her she can't possibly be as wonderful as Gigi. Meanwhile Cutter is getting a pedicure from Rama and he tells her about how Kim tried to get in touch with Clint, and how he'll get the money from Rama because he has a golden goose. Stacy tells Cutter she doesn't want to hurt Rex, who seems like wonderful guy and there's only one thing she can do.
Nora finds Destiny trying to write her college essay, and Destiny's discouraged about how she'll be a single mom and go to college. Nora gives her a pep talk and then helps her with her essay.
On the Next One Life to Live…
Tina makes Natalie nervous.
Jack finds Todd at The Sun.
Roxy confides in Tina.
(SoapOperaNetwork.com) — "General Hospital" Episode Recap – Wednesday, November 2, 2011.
IT HAPPENED TODAY…
Michael, Abby, Olivia, Dante, Lulu, Alexis and Kristina arrive for dinner. Olivia gets lightheaded again. Molly helps Kristina pack for Yale, inadvertently leaving behind a book of Russian poems. The Davis women hug, bittersweet over Kristina's imminent departure.
Lucky puts Siobhan's rosary and handkerchief in the wall and ends with a surprising outcome.
Luke is at Wyndemere, too.
On the Next General Hospital…
Dante and Michael are at odds.
Carly's upset at Shawn at Jake's.
Emma's birthday draws near.
(SoapOperaNetwork.com) — "One Life to Live" Episode Recap – Tuesday, November 1, 2011.
IT HAPPENED TODAY…
Rex hears about problems in the stable, assumes it's Cutter, goes in armed. It's Tina and Cord, who are rudely awakened after a night of lovemaking. Rex is grateful to Aubrey for her help in busting Cutter. Aubrey and Rex get closer.
Rex works up a head of steam about Cutter's female accomplice, takes her mask and goes to the Minuteman to return it. Stacy admits feelings for Rex were powerful – even if she doesn't remember him. He asks her to consider continuing their plan. They could both end up with what they want. He asks her to stay put – at least till he gets back. As he leaves, we see Rex lurking in the hallway. Rex breaks in.
Viki questions Todd about his time with Blair last night. He gets very agitated, Viki realizes something's really bothering him. Todd evades, changes the subject to her and Clint. Viki tells Todd she and Clint are growing closer, but she's holding back too. Viki and Todd agree not to pressure each other about their love lives.
Nigel informs Clint the PI he hired to track down Kim wants more money. Clint's torn about whether to pursue the search or not. We see Cutter with Kim's real letter as he writes a "reply" to Kim from Clint.
Tina and Cord deal with the aftermath of their lovemaking.
Blair admits to Starr she's torn between Todd and Tomas. Blair tells Starr she made a vow to stay away from complicated, troubled guys. Now she's got two. Téa's frustrated that the police haven't found her husband's murderer. Tomas promises to put his CIA skills to good use, he can investigate for her, in a way the cops can't.
On the Next One Life to Live…
The judge makes a decision about Victor's will.
Nora tries to raise Destiny's spirits.
Stacy hides out from Res.