on Saturday, October 8, 2011 @ 3:39 PM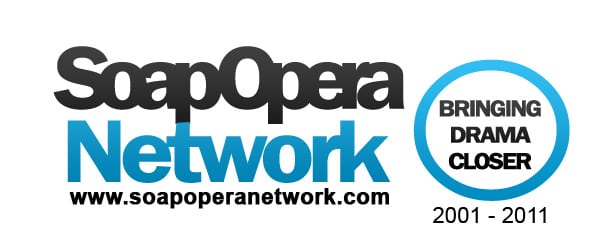 (SoapOperaNetwork.com) — October 8, 2011 marks the tenth anniversary of Soap Opera Network, an online magazine celebrating the world of soaps past, present and future.
Soap Opera Network began as an online message board on the then popular ezBoard (now called Yuki) platform by two individuals that wanted to start a more industry based discussion forum for fans of the soap opera genre with the idea that not only could one discuss the comings, the goings or the general news of the day, but have the opportunity to learn more about the names, the faces and the minds of the people that help make daily dramatic serials happen year in and year out. At launch, soap operas "All My Children, "As The World Turns," "The Bold and the Beautiful," "Days of our Lives," "General Hospital," "Guiding Light," "One Life to Live," "Passions," "Port Charles," and "The Young and the Restless" were on the schedules of television networks ABC, CBS and NBC.
In November 2002, Soap Opera Network left ezBoard and became its own .com service.
Thanks to elaborate databases such as a ratings archive (how soaps rated over the years), episode count archive (who appeared in episodes of a soap opera each and every month and year), its end credit archive (who wrote, directed or produced each episode), including a listing of episode writers and directors along with profile pieces on more than 80% of the writers, producers and directors, Soap Opera Network has cornered the market on information surrounding the inner workings of the soap opera format.
Over the course of its ten years, Soap Opera Network has interviewed a number of daytime's biggest stars and behind the scenes personnel including Susan Lucci, Erika Slezak, Melody Thomas Scott, Maurice Benard, Steve Burton, Sarah Brown, Hillary B. Smith, Robert S. Woods, Ilene Kristen, Ken Corday, Cameron Mathison, Cady McClain, Eden Riegel, Judith Light, Bradley P. Bell, Brian Frons, Maria Arena Bell, Sherri Shepherd, Daniel Goddard, Greg Meng, Marlene McPherson, Darrell Ray Thomas, Nancy Curlee, Melissa Archer, Kristen Alderson, Julie Pinson, Ron Carlivati, Frank Valentini, Linda Dano and many more.
Current Soap Opera Network staff is as follows:
Xavier Toups, Co-Founder
Errol Lewis, Editor in Chief; General Hospital Editor; Days of our Lives Editor
Angela Rosa, Managing Editor; All My Children Editor
Scotty Gore, Managing Editor; One Life to Live Editor
Venus Stone-Cutter, The Young and the Restless Editor
Gehrig Burnett Jr., The Bold and the Beautiful Editor

Topics Discussed
All My Children
,
Angela Rosa
,
As The World Turns
,
Bradley P. Bell
,
Brian Frons
,
Cady McClain
,
Cameron Mathison
,
Daniel Goddard
,
Darrell Ray Thomas
,
Days of our Lives
,
Eden Riegel
,
Erika Slezak
,
Errol Lewis
,
F Menu
,
Frank Valentini
,
Gehrig Burnett Jr.
,
General Hospital
,
Greg Meng
,
Guiding Light
,
Hillary B. Smith
,
Ilene Kristen
,
Judith Light
,
Julie Pinson
,
Ken Corday
,
Kristen Alderson
,
Linda Dano
,
Maria Arena Bell
,
Marlene McPherson
,
Maurice Benard
,
Melissa Archer
,
Melody Thomas Scott
,
One Life to Live
,
Passions
,
Port Charles
,
Robert S. Woods
,
Ron Carlivati
,
Sarah Brown
,
Scotty Gore
,
Sherri Shepherd
,
Steve Burton
,
Susan Lucci
,
The Bold and the Beautiful
,
The Young and the Restless
,
Venus Stone-Cutter
,
Xavier Toups
Copyright © 2001-2014 Soap Opera Network