'The Opportunity Begins' for Katie Couric Talker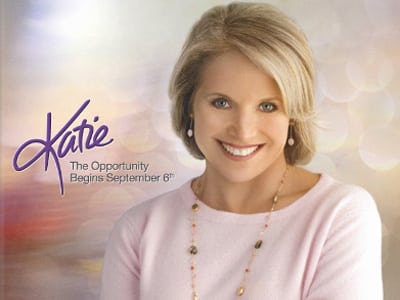 (SoapOperaNetwork.com) — As reported back in June, the Disney/ABC Television Group has hired Katie Couric to host a new daily syndicated talk show that is expected to air on virtually all ABC affiliated stations, including the eight owned and operated stations that have already signed off on the deal. The show currently titled "Katie" will debut in September 2012 during the 3:00 PM ET/2:00 PM PT time slot currently occupied by ABC's "General Hospital," which will be forced to relocate to an as yet to be determined timeslot on the network.
According to TVNewser, Disney/ABC has begun sending marketing materials to station owners and advertisers in hopes of driving up support of the new show, which includes the first promotional poster for the talk show (seen at right).
"I think Katie is a unique brand in television," said Jeff Zucker, "Katie" Executive Producer and former NBC Universal chief executive shortly after the announcement of the talker was announced in June. "The mere fact that you can just say Katie and know who we are talking about is evidence of that."
Remembering the statements made to calm down "GH" fans, who are worried the 48-year-old soap will be the next canceled by ABC, the Disney/ABC publicity team stated back in the June the following:
"As you'll note, we went out of our way to state that we continue to support the show," Disney-ABC Television spokesman Kevin Brockman told CNN. "We have a long time between now and fall of 2012, so fans should be encouraged to continue watching and supporting."

Brockman's statement was echoed by Jori Petersen, Vice President, Publicity, ABC Daytime "The announcement does not mean the inevitable cancellation of 'General Hospital,'" said Petersen. "Rather it means that in September 2012, we will program our daytime block with our three strongest shows. We'll have options for the daytime daypart just like with do each year with prime-time. We believe in all of our shows and the ones that our viewers want will be the ones that continue. There are many options that could happen … only time will tell. We are simply giving ourselves options for the future, which is a smart way to do business. The best way to ensure a favorite show stays on the air is to watch it."
According to TVNewser, "Social media and interactivity will play a big role in the show, which is still in the early stages of development. Disney-ABC is currently building out a few websites for the program, including www.TalkToKatie.com, which is expected to serve as a hub at which viewers and Couric can interact."