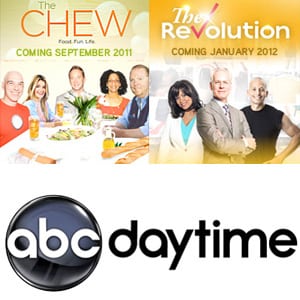 Exclusive First Look: 'It's a Brand New Day' at ABC Daytime this Fall When Network Debuts 'Chew' and 'Revolution'
As we all know, four weeks ago Brian Frons, President, Daytime, Disney/ABC Television Group, visited the set of ABC's "All My Children" to announce the cancellation of the 41-year-old soap live and in person to cast members while also canceling "AMC's" sister soap "One Life to Live," whose cast members learned via video feed of the 42-year-old daytime dramas fate. According to Frons, with "The Chew" and "The Revolution" the network will be saving between 30-40% a week on programming costs. It's easy to see why as Soap Opera Network has your exclusive first look at the new programming that falls under the networks "It's a Brand New Day" promotional campaign. Materials for the campaign will be sent out to advertisers and press outlets beginning next week as the network presents its 2011-2012 daytime and primetime schedule to Madison Avenue's elite buyers at the Avery Fisher Hall in Lincoln Center in New York City on Tuesday, May 17. Soap fans are scheduled to protest outside the event from 2:00 – 6:00 PM.
"The Chew," a one-hour Talk show co-hosted by Mario Batali, Clinton Kelly, Carla Hall, Michael Symon and Daphne Oz, replaces "All My Children" beginning Monday, September 26. "The Revolution," a one-hour Lifestyle series co-hosted by Tim Gunn, Harley Pasternak and Kimberley Locke, replaces "One Life to Live" beginning in January 2012, according to ABC. Soap Opera Network has since learned that the program will debut on Monday, January 23 with "One Life to Live's" last airdate set for Friday, January 20, 2012.
Without further ado, here is your exclusive first look at "The Chew" and "The Revolution."
[slideShowProSC width="575″ height="460″ album="29″]