Sunday, August 9, 2009 11:50 PM ET | By Venus Stone

---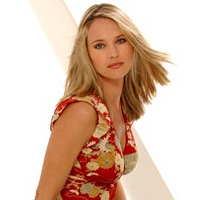 (SoapOperaNetwork.com) — Surprising offer…
THIS WEEK ON: THE YOUNG AND THE RESTLESS
Mac demands that Billy tell Chloe the truth about the two of them. Victor informs his children that Nikki left Genoa City. Chloe finds herself getting a hard dose of reality when she continues to push Mac and Chance together, on Monday, August 10.
The Inside Story: Commit Yourself
Taken to the police station, Sharon realizes how much trouble she's in for 'stealing' the ring. Jack is the first person that she calls but when he arrives, he's not sure that what has happened was simply a misunderstanding. Sharon tells him that she only went to look at the ring, not take it, however, Jack believes Sharon needs to seek help. Meanwhile, Nick, who has gotten word about Sharon, heads to the police station. She too tries to explain to him what happened, and while he believes her, he's taken aback when he sees the exact same ring that he gave Phyllis as evidence. He soon departs and heads home to Phyllis, who is glad that Nick didn't go there to save the day. In the meantime, Heather, who is assigned Sharon's case, comes to see her at the station with an offer: avoid jail time altogether if she checks herself into a psychiatric facility. Jack thinks she should do it but Sharon hesitates. When she's alone, Sharon dials Nick's number asking for him to come back to see her.
A Closer Look: The Brink of Insanity
A emotionally fragile Ashley opens up to Adam about how she's having a hard time determining what's reality and what is a dream. Adam, interested in 'learning' what she's talking about, gets her to admit that she strongly believes that she hit Sabrina with her car. Pretending to understand her, Adam secretly figures out a way to use this against her. Billy, in the meantime, heads to the Newman Ranch to visit Ashley and is worried when he sees that she's become an emotional basketcase. Billy tries his best to talk to Ashley but soon leaves to talk to Jack. Adam goes to inspect Ashley's car and discovers that there is a dent in it and using it to his advantage, returns to the ranch to inform the distraught woman that she 'killed' Sabrina. Alone with Jack, Billy relays Ashley's behavior at the ranch to him and thinks that she needs to be committed for treatment. The two brothers head back over to the ranch, more deternined than ever to get Ashley to leave with them.
What To Watch
Chloe gets asked out on a date
Mary Jane/Patty confesses to someone close to her
Neil discovers what's going on with Devon and Tyra
The Young and the Restless News and Headlines
Corbin Bernsen reprises his role as 'Father Todd", Monday, August 10
Laura Saltman, ACCESS HOLLYWOOD correspondent, will play "Sonia Wells", a ruthless reporter from the National Inquisitor in scenes with "Nick and Phyllis" on Monday, August 24
Jerry Douglas will reprise his role as the ghost of "John Abbott", Thursday, August 20
On Friday, August 28, 2009, The Young and the Restless Fan Club Dinner will be held at the Sheraton Universal Hotel in Universal City, California from 6pm to 11pm. Fans will get the chance to get up close and personal with their favorite Genoa City residents. Pictures and autographs will be available along with some very special surprises planned for the evening. Tickets are available on a limited basis only so it is important to order now. The cost per person is $170. which includes dinner, tip, tax, photo autograph book and much more. The deadline is August 21st, 2009. Please visit